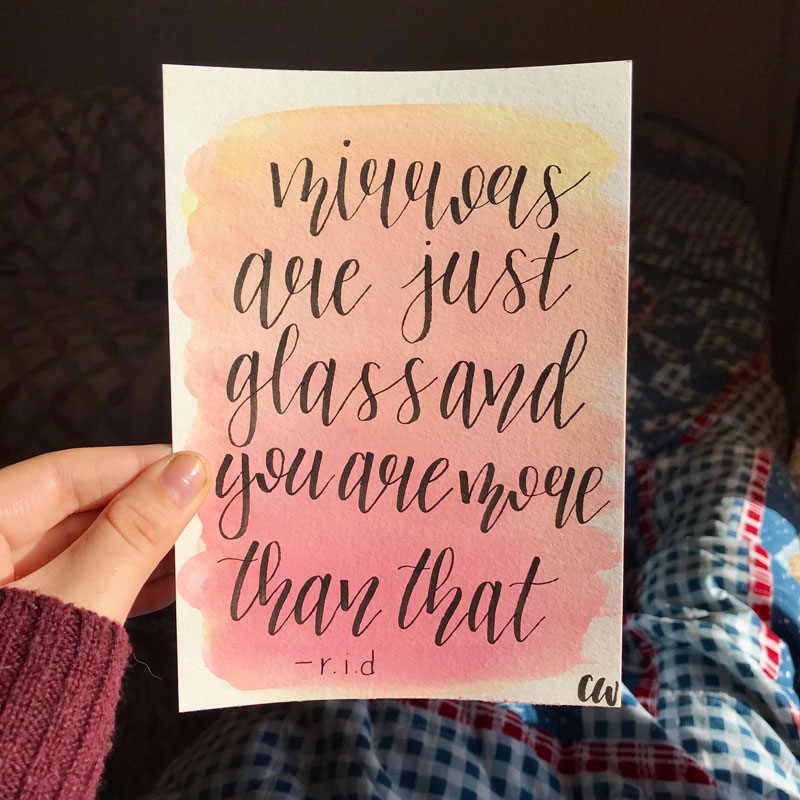 How Art Journaling Has Impacted My Eating Disorder Recovery
Over the past few months, making art, especially art journaling, has become an important part of my eating disorder recovery.
This past summer, after being inspired by a friend and several other people who I had seen on social media, I decided to start learning how to do hand lettering. Prior to this, I didn't think I was capable of creating this type of art. While I have been a dancer and singer all of my life, I have never been good at drawing or painting, so I assumed that I'd never be able to develop this kind of ability.
Slowly but surely, I learned modern calligraphy through Pinterest guides and YouTube tutorials. Learning a new skill has definitely been a challenge for my perfectionism, especially because hand lettering isn't something that came naturally to me at first. After countless mess ups and thrown away sheets of paper, I started to become more comfortable with this art form, and I realized that the process was very therapeutic for me.
It's easy for me to give up when I'm not good at something when I first try it, however, after seeing the beautiful pieces other people have been able to create using modern calligraphy techniques, I decided that pushing through the anxiety would be worth it (and I was right!)
After I became more comfortable with my work, I decided to start posting my pieces on my Instagram page. My followers loved the pieces I was posting, and after listening to their suggestions, I started an Etsy shop to sell my art, with a portion of the proceeds going to Project HEAL to help fund eating disorder treatment for those who can't afford it.
While being able to sell my art gave me even more motivation to continue making it and trying new techniques, I also started to realize that I was focusing more on making my art perfect and making art that I thought other people would like, instead of focusing on making art that helped me and that I liked. I loved when people liked and bought my pieces, however, it started to feel like a chore because I wasn't focusing on making art for me — I was focusing on making art for everyone else.
With a gift card that I got for Christmas, I decided to buy a spiral bound book full of watercolor paper so that I could create an art journal. The idea behind the journal was that each page of the art journal would be pieces that I wanted to create, with a quote or poem that matched my mood or something I needed to hear that day. The art on each page would be focused on what I liked and needed, not anyone else. I also wanted to use the journal to push myself to try different watercolor techniques and styles of lettering, so that my art would once again be therapeutic, instead of forced and stressful.
This has allowed me to find quotes and poems that strongly resonate with me, give myself reminders that I need on a particular day, and push myself to make my own love for my art a priority over trying to please others. I've learned that while I enjoy making art for others, I should be making art for myself first and foremost.
So, today, I encourage you to try learning a new skill. Whether it is modern calligraphy or photography or anything else, push yourself to learn something new and see the amazing impact it can have on your eating disorder recovery.
Colleen Werner is a writer, dancer, and future therapist from Long Island, NY. She's studying Psychology at SUNY Old Westbury and plans on going to graduate school for Mental Health Counseling. She aspires to start an eating disorder treatment program for dancers. Colleen's experiences in recovery from an eating disorder and anxiety disorder have inspired her to share her story in an effort to help others, end the stigma, and create a sense of community. She is a National Ambassador for Project HEAL, a Campus Editor-at-Large for HuffPost, and a contributor for HerCampus and The Mighty. Colleen's Instagram, @leenahlovesherself, inspires thousands every day with her posts about authenticity and mental health.